The most important two words in Leadership Development are "BY EXAMPLE"!
This is the BIG result of many SMALL efforts of Leadership Development  "that radiates out" when you are a Charismatic Leader, who is not afraid to act out on his Values and Beliefs in his professional life and…in the grocery store!!!
An Authentic Leader sees his personal life to be an extension and a reflection of his professional life and vice versa.
In other words, one life supports the other. It comes down to using every situation to practice being at your best, and using every opportunity to develop Excellence.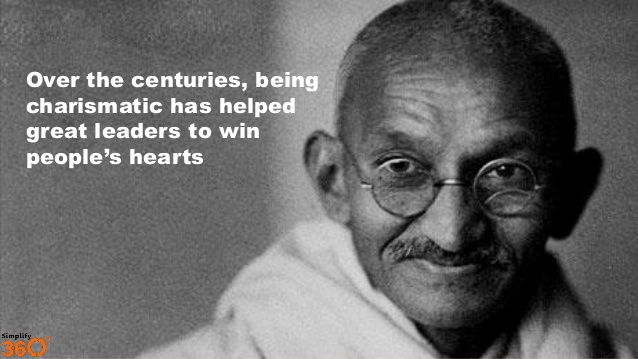 It is clear and simple isn't it? We instantly know it when we see Charisma, we feel it, and no one needs to explain it to us… Ghandi, in the picture above, whether you liked him or not, put himself on the line for what he believed in.  He was honest to his personal convictions, and values, and that made him strong and Charismatic.
ALERT! There have been many "so called" Charismatic Leaders, who exercised their true beliefs and convictions in a cruel way! That is NOT the true meaning of Charisma! The most important ingredient in a Charismatic Authentic Leader, is the love of ALL human beings, regardless of race, creed or religious beliefs. Their love of people opens the door for people to love and trust them. Its not personal, its a VALUE!
Leaders who act in dissonance with their value systems become disjointed, egotistical an ultimately very weak!
It goes like that, if you as a leader, develop patience then you'll firstly be patient with yourself, from which you'll get the integrity, energy and power to be patient with others. If you are humble about your own life endeavor, you will be humble with others, and so on, and so on…the connection is as clear as day light. Anything else is fake and usually cracks under pressure very quickly. Clearly, if a person in a leadership position is truly humble, it will take them a long time before they become egotistical, in other words, their humility will be upfront and so will their charisma.
Unfortunately, in this day and age, given the reality in which we live, these words seem almost like a fantasy!
But…it doesn't make this message less valid.
To those who Lead and wish to be honest to their leadership role, and to those who aspire for long term Authentic Leadership Development the following question is asked:
Do you lead your own life in such a way that gives you the moral backing to Lead others?
I hope you have enjoyed this article and should you have any questions or comments please write them below.
Enjoy your Growing Development….
Eli Harari
The Thinking Coach™
---