Why Is Attitude The Basis For What Creative Thinking Is About?
This article will deviate from the general understanding of What Creative Thinking Is About. It will address the story behind the story of How to think, rather then deal with just the symptoms. The attitude that a person comes from is always the key to their success or lack of it.
An attitude that says "yes I can" and "I welcome change" and "Comfort zone can be a trap" will enable a person to be creative.
One of the most important words in the dictionary is Attitude….when the attitude is right, everything else lines up…Strategic Thinking, Critical Thinking, Decision Making, Change Management, Emotional Intelligence, Interpersonal Communication  and of course Creative Thinking, which is first and foremost, The Ability to See Things Different.
There is always right & wrong Attitude about everything. The choice is yours!
The right attitude provides for inner enlivenment & is the glue between different skills that you have, and is the most important catalyst in the Trio of Personal Effectiveness: Thinking, Emotions and Execution.
Attitude is a deep thing, it is in every human about everything, whether they are conscious of its presence or not. It is the "Where They Come From" to do what they do. It is the underline of what they truly want, not what they say they want. When the attitude is positive, believing, thankful, happy, appreciative, it opens the door for new possibilities and forms a bridge between the old and the new… a Bridge to New Perception.
 Key attitudes for What Creative Thinking Is About
"Every moment is new and so will I be", that's it, that's the attitude!!!
"Big deal" you might say "I can do that to become more creative and make more money". Well then…Do It!
For most people A New Day is not an earth shattering fact, but it is, if you make that your attitude! And by the way, how can we be sure that we have tomorrow?…try to think about that but without fear!
Attitude is a choice, in fact it is at the heart of what decision making process is about. A new day is a platform for your life, without which it all stops. So if we became familiar with that, because it is here every day how could we be creative? The enemy of creativity is to be too sure of what you think you have and know. Experience is one thing, but change happens all the time. How can we meet Change with yesterday's ideas without taking the life out of what that change proposes?
It so simple, so easy and YET SO FAR- It needs a new attitude because most people don't wake up with the WOW! (Wonderment of Wonder) of the gift of  "It's A New Day"…do they?
Have you noticed how creative children are? For children, every day is a fresh start, so don't tell them it's all the same – that's an adult laziness and absence of mind.
What is Creative Thinking About – The Attitude
You have to be trying to look at things differently (differently is everything except the way you look at it now- so you have a lot of options, don't you…)
Look at every day as a new day and every opportunity as a new possibility
Don't judge things – judgement is based on the past- instead, asses things as they pertain to the NOW
Beware of your comfort zones! It is your past luring you back
You have to think about things for yourself, not as everyone else thinks, even though you may be alone thinking for yourself!
You have to be strong enough to put up with the judgment of other people who will judge you because you dare to be different. Secretly, they will admire your courage.
You have to try new things and not mind making mistakes
Get curious about things and ask questions
Creativity and fear of making mistakes don't gel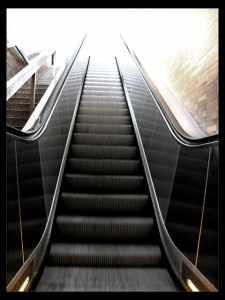 Photograph By: Eligius57 on devianART
When you decide for yourself, and you believe, and you have real reasons for doing things, and you are passionate, creativity is never far away. Attitude which is connected to the power of positive thinking, can be likened to a moving escalator, it  will carry you forward effortlessly…but you got to get on the escalator, you start to feel a new kind of energy…it feels good, you are in control…and the results will come.
What is Change Management About, When It Comes To Creativity?
If You Change the way You Look at Things the Things You look at Change!!!
That's a matter of attitude, which is a matter of making decision. So keep looking at everything you see as if it is the first time and you'll discover that the things you look at change in front of your very eyes.
We are chess players on a board, when one changes everyone has to make a move. What creative thinking is about, therefore, is taking ownership and personal responsibility.
It takes some doing but the rewards are great!!
"What is Leadership About" The Thinking Coach Creative Thinking Training
The program What is Creativity About is part of corporate training seminars, which are based on 25 years of international experience that stretch across nations, cultures, continents and thousands of professionals. The objective is to get you to the next level by firstly creating in you the desire to succeed and the belief that you can, and then showing you how to do it.
The Thinking Coach Leadership Training Courses & Employee Training Development are RELIABLE, POWERFUL and SIMPLE. They provide a new definition for What Is Leadership About. The programs change attitudes, firstly on, what is life leadership, and then on soft skills for the workplace and effective communication for the workplace.
The Power Of Positive Thinking  attitude is the key to what creativity is about!
Eli Harari
The Thinking Coach™
---