"What Is Management About Seminar" – Soft Skills For The Work Place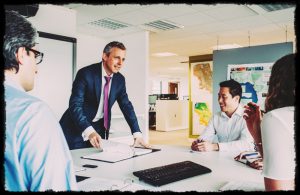 'What Is A Manager' is a corporate management training program that includes the most important Soft Skills For The Workplace and will provide the big picture of what is management about, with soft skills list and team leadership skills, second to none.
This seminar includes the basic soft skills list in the most problem prone territories, those which affect productivity the most. It initially requires 3-5 days seminar for the material to satisfactorily transfer. This is not a one-time seminar, but rather a foundational building course that will need to be maintained. It will however sow the most important soft skills seeds, which in time will yield fruits aplenty.
It contains performance information tools and performance tools that are extremely effective in understanding How to think about the difference between, What Is Leadership About, and What Is Management About .
What Is Management About Comprehensive Seminar Dynamics:
What is strategic thinking about
What is creative thinking
What is critical thinking about
What is change management about
What is emotional intelligence about
What is team building about
What is employee engagement about
What is decision making process
What is public speaking
What is effective communication for the workplace
What is a stress
What is stress management about
What is a leader
What is a success
Power positive thinking
Motivation workplace
These Corporate Management Training Programs Focus On Two Mind-Sets:
1. Being – The Form, where core changes of attitude, value system and commitment can be made.
2. Doing –  The Content, actionable intelligence, where practical tools to improve performance can be applied.
The combination of these two mind-sets have shown to be absolutely essential in how to build confidence, personal initiative and charisma ,while fostering a lasting teamwork spirit that survives mental and emotional challenges.
The following outline provides an overview of this exceptional management training program out of which "tailor fit" curriculum  will be fashioned to meet the specific needs of any organization.
The Thinking Coach seminars are rich with list of leadership skills, that combine practicality with many interactive exercises. These, cutting edge, Corporate Management Training Programs proposes a personal development plan template that will take leaders to the next level.
Course Curriculum Outline
Module 1 – How To Think…
What is strategic thinking about

Strategic thinking definition
Strategic thinking as prerequisite for effective personal management
Consequence analysis
Separating cause from symptom
probability/likelihood analysis
Problem solving skills training
Thinking in parameters
The Question behind the question
Separating facts from fiction
What is critical thinking about

Critical thinking definition

Critical Thinking Questions

Critical Thinking Exercise

Effective gender integration in strategic thinking

Key strategic thinking questions 

The art of decision making
Think yourself out of yesterdays paradigms- practical creative thinking training
What is creative thinking about-"Ideas factory" work shop
What is positive thinking about
The power of positive thinking

Module 2 – Personal Development Plan Template – What Is Life Leadership About?
How to think about personal development
Separating facts from fiction
"Zoom in, Zoom out" methodology
Did you know the facts
What is life leadership about
5 keys method to gathering information

Mental strength training- finding a needle of Yes in a haystack of No

Mental toughness exercises

How to improve self confidence

Magnetic/electric response mechanism

What is decision making process-individual
What is decision making process- collective
The art of decision making – What is an Art
Vision vs. Mission- personal Vision Mission Statement (…and strategy)

"Know thyself" work shop

The 5 intelligences
How to create a personal development plan template for the future
Module 3- What Is Change Management About?
What is change management about

What is change management training about

Leading culture change

Leading transformational change

What is a paradigm
What is a paradigm shift

Paradigm shift definition

How to think about organizational change management
Personal productivity definition-Shifting thinking polarity-N to P
 "Infecting" your organization with positive mental attitude (mental & emotional viruses)
Applying emotional intelligence training to maximize personal productivity
Effective "Warmth Management"- positive thinking thoughts and actions
The 4 characters strategy
Equating expectations strategy
Forming strategies in role playing
Feedback model-positive thinking tips
White space strategy:
white space definition
white space innovation
white space management
white space marketing
white space mapping
white space work
Module 4- What Is Communication About
 Effective communication workplace
What is communication about – An overview of communications in the 21st century
Common communication mistakes
Importance of communication in the workplace
What is good communication
What is effective communication
The 3 levels of communication
Communication skills in the workplace
What is augmentative communication
What is a language
What is a body language
What is a positive body language
Why is body language important
Verbal and nonverbal communication
Presentation skills tips
Overview- What is the the truth about the corporate communication skill level
What is the truth about passive communication
What is the truth about proactive communication
What is the truth about the main stakeholder in communication
Effective team communication tips
improving interpersonal communication skills
Definition communication
Verbal and nonverbal communication
Communication skills activities
How to improve communication skills
What is public speaking
Module 5-Executive Leadership Training – What Is A Leader
How to Improve Leadership Skills
What is a leader – 21st century updated management & leadership concepts
What is transformational leadership about
What is transactional leadership about
Transformational leadership theory
Transactional leadership theory
How to improve leadership skills
What is a manager
What is life leadership- To be the CEO of your own life
The 3 essential strategic wheels for transformational leadership
Transformational Leadership Style 1- Inspiring support system (neutral from the back)
Transformational Leadership Style 2- "By Example" (proactive leadership, from the front)
The enigma of charisma- transformational leadership style
 Charismatic leadership
 Sustainability of core leadership and management skills
Effective application of the 2 natural response mechanism- magnetic/electric
Leadership level-essential balances of mental toughness training & emotional resilience training
Maximizing the human potential in your organization
The power of positive thinking- "Positive emotional viruses"
Mind versatility in leadership- leading, guiding, supporting, delegating
Creative thinking as key ingredient in management training program
How to build trust in your clients and workers
Module 6- What is Stress management
What is stress
What is Stress about in today's corporate world – overview
What is Stress Workplace – overview
Causes of stress in the workplace
Symptoms of stress in the workplace
The Match box analogy
Overview of The difference between the 5 stress strategies
Dealing stress strategies – how to deal with the stress
Coping stress strategies – how to cope with stress
Handling stress strategies
Stress management strategy
Stress relief strategies
What is stress management- overview
What is stress management about- causes and symptoms
How to reduce the stress in employees
How to relieve stress from the workplace environment
How to relieve stress from the leadership
How to reduce stress in the management
Workplace stress relief activities
Workplace stress relief techniques
Ways to relieve stress and ways to reduce stress
Stress management tips
What is stress management
 Coping skills strategies
Handling ease with pressure and pressure with ease
The 10 actors methodology
Module 7- What is Team Building About
What is Team Building
What is a team
Corporate team building objectives
Team building in the work place
Skillshare – performance information tools – performance tools
Strategic thinking training
Team motivational tools
Life skills training  in a team – identifying the individual excellence in team members
Emotional intelligence training – empathy, feedback, cooperation
Building teamwork workplace – Effective teamwork strategies – the what, why and how
The power of positive thinking in team building
Team building activities work
Exercising powerful leadership skills within a team
Teamwork training activities
Skillshare
Fundamentals to Team Synergy
Value/quality work shop
 Future projection strategies & harnessing will power
Motivation strategies
Take home performance tool kit
What Is Management About – Seminar Objectives:
To provide managers with the big picture of What Is Management About, in the 21st century, with practical and updated transformational leadership skills and transactional leadership skills that fit the current needs and requirements of the corporate world
To provide managers with performance tools that build charisma and foster team work
To provide managers with performance information tools to increase the ability to analyze, evaluate and judge situations accurately
To teach how to think, according to what the reality is, take greater responsibility, be decisive and make decisions that are based on system thinking.
To give people a positive, inspiring and constructive training experience that will encourage continued learning and development.
To provide people with self confidence and belief in their capabilities, potential and ability to produce.
To demonstrate how to create a professional "together" ecology that integrates vital human soft skills of "Being" with practical application by acquiring "Doing" skills.
To help people discover the ABC of their own leadership style- Attitude, Belief, Commitment
To motivate people to apply newly acquired performance information tools and performance tools.
Call To Action
What Is management About is a must program for management in the 21st century providing extraordinary performance information tools and performance tools that every manager needs just to be able to survive the massive changes in the corporate world. To excel as a manager these acquired tools would need to be applied and become second nature.
For exceptional corporate training seminars that make a difference
Eli Harari
The Thinking Coach™
---